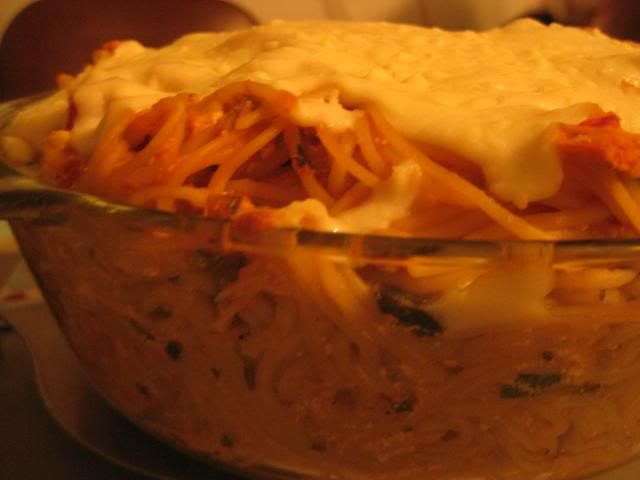 This meal is a favorite with our family! I made two versions, one with regular pasta for the kids, and one for the THM adults using Dreamfields Pasta. If you are not comfortable with using Dreamfields, you could use spaghetti squash instead. Remember that the low-carb properties of Dreamfields don't work if you reheat it (it breaks down the coating on the pasta) so either make enough to only last one meal or eat the leftovers cold (which is what I did, since we don't own a microwave anymore, I tend to do this a lot, and I like cold pasta!
Pasta (We did 4 serving Dreamfields to have leftovers for the next lunch to keep it THM and then made an extra box of reg. pasta for the kids)
Chicken Cooked and Shredded (2 large breasts were enough for our family of 6)
2 cups shredded cheese (one for each dish)
1 cup ricotta cheese
Generous handful of fresh parsley
1 jar of low-sugar spaghetti sauce
Preheat the oven to 350. Start by heating the water for pasta and while you are waiting for it to boil, start shredding your eggplant. If you would prefer, you could slice it in very thin rounds instead, but I chose to make it a similar size and shape to the pasta.
Sprinkle a little salt on your eggplant while it sits (this is supposed to draw out the bitterness, normally I would pat dry with a paper towel after, but as you are throwing this in the pasta water it won't be necessary. I throw the eggplant in with the pasta the last 30 seconds to give it a quick cook. I am using a whole eggplant here, but don't forget I used half in our pasta and half in the children's. If you are only serving 2 people then probably just a half an eggplant total will be enough.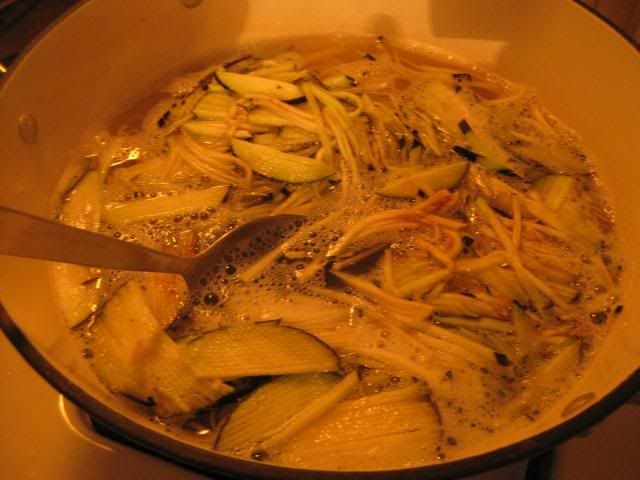 Strain pasta and eggplant. In a large oven-safe bowl (or dish), add the remaining ingredients, minus the shredded cheese, and mix well. I hope this is not too confusing, the ingredient list is for BOTH the THM meal and the additional one for the children. I thought this would be helpful for other families like ours.
So I had two bowls, one regular pasta and 1/2 the eggplant in one and the Dreamfields and other 1/2 eggplant in the other. I add half of the remaining ingredient to each bowl (so one shredded chicken breast, 1/2 cup ricotta cheese, half a jar of spaghetti sauce to each, half the handful of parsley and half the TBS of oregano.) Then I sprinkled one cup of shredded cheese over each (yes I cooked it right in the Pyrex bowls, one less dish to wash!) Cook in the oven at 350 until the cheese is melted and everything else is hot (about 20 min for us)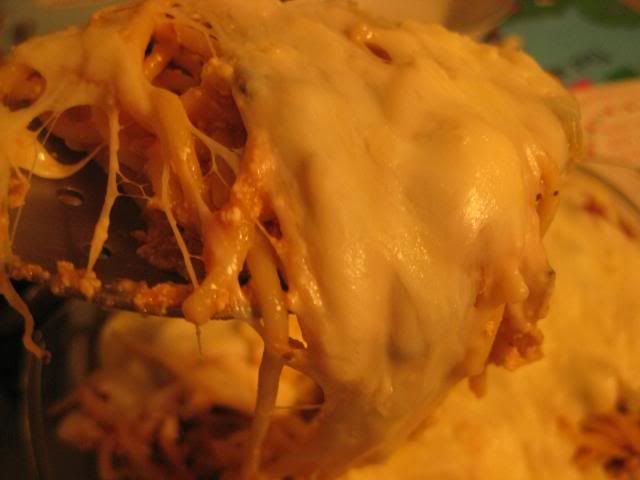 This was soo yummy and definitely didn't feel like diet food! And the kids were happy with their version and ate the eggplant without even realizing it was in there! =) I would encourage you to not leave out the fresh parsley or dried oregano, both herbs have LOTS of health benefits, and the oregano in particular during the cold and flu season is a good idea (you could also add some fresh garlic to this meal as well, to give it another super antibacterial/antiviral aspect.)
I hope you enjoy it as well! I always love to hear in the comments about others who try my recipes at home!
This recipe is linked up on Trim Healthy Tuesday over at Gwen's Nest.