Are you looking for more fun ways to learn with your kids? Our family had so much fun reviewing two educational treasure hunts from Clued in Kids! We tried out the Soccer Hunt and the Thanksgiving Hunt ($5.99 each), but go to the website and check out ALL the fun treasure hunts they have, there are LOTS!
Let me tell you a little more about these treasure hunts, you can read Heather's story here about what inspired her to start this company, also Clued in Kids has created a great little animation to show you what it's all about. Basically you have a group of clues you will print off from the PDF. Each numbered clue will give you a location to hide it in on the bottom. The first clue will be handed to the children. The clues must be figured out using the educational puzzles provided.
Once they figure out the puzzle it will lead them to the next clue. If the clue tells you to hide it somewhere that doesn't exist in your house (for instance one of the Thanksgiving clues was to be hidden in the scarves- which we don't have this far south!) then you can come up with an activity for the kids to do to earn that clue (jumping jacks, skip counting by 2's, etc)
We did was the soccer hunt first. Most clues have a soccer theme to them, such as finding a hidden household item in a soccer picture, or figuring out which soccer word completes a word puzzle. I admit there were several here I had no clue how to answer, but there's an answer key to look up anything that you may need help with. Most areas they ask you to place the clues in, will be common in every home, such as "hide this clue in the forks" or "hide the clue in a child's bed".
We did the Thanksgiving hunt second. This would be a great one to try in the upcoming weeks. None of the clue answers would require you to be already decorated for the Thanksgiving Holiday, however the clues had a definite fall or Thanksgiving theme to them.
At the end of each hunt they ask you to leave a "treasure" in the final hiding spot for your children to find. It can be anything you want to use such as stickers, candy, or even use the hunt at a party and have the gifts be the treasure! We have a reward system in our home where the children earn a marble for good behavior, helping out with a difficult chore, for a special kindness, etc. Once they collect 10 marbles they recieve $1. We used these marbles as our "treasure" and each child earned 2 as their treasure.
The age range for these treasure hunts is 4 and up according to the website. My 4 year old did participate, however, if she had been doing the hunt all by herself a lot of the clues would have been too hard for her. In fact, several of the math problems needed to figure out a clue were beyond my 8-year-old's math ability and we had to solve them together. So be prepared to be involved in the hunt as a parent if your children are younger. All of my children really enjoyed doing both hunts and immediately asked if we could purchase more when we were finished.
Set up for the hunts will take less than 15 min. I would recommend checking your printer ink before doing these, I had one color that was running low and several of the clues were difficult to see because of that.
If you would like to try a scavenger hunt for free, sign up for Clued in Kids newsletter to receive the Homework scavenger hunt PDF free!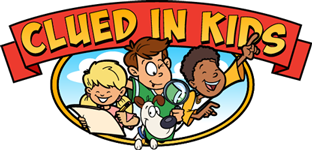 Follow Clued In Kids on Social Media