Have you ever wondered if there was an easier way for your child to learn read and write? Is it confusing to you how many "exceptions" there are in English? Do your children struggle with reading and spelling? Let me tell you about a program I was blessed to be able to review with my children called,
Logic of English
.
Logic of English is a

systematic phonics

program, that teaches students in a step by step process that makes it very difficult to fail! It is a teacher intensive program, but you will love the results for your extra effort! I was given the opportunity to review
Foundations, Level A
- Manuscript for the beginning reader. This level of the program is meant for children ages 4-7. Not only was it a great

kindergarten reading program

for my 6 year old, who is just beginning to learn to read, but also my 8 year old struggling reader was able to fill in some gaps in his homeschool reading. My just turned 4 year old was able to join in as well and, though she was not quite ready to fully participate, she definitely learned a lot more phonograms!
Here's what Logic of English says about Foundations A on their website:
"Foundations
A sets the stage for reading with extensive phonemic awareness activities. While students learn to read and write lowercase a-z, they also practice decoding short vowel words and consonant blends through a variety of games and activities. By the end of Level A students are reading and comprehending phrases with lowercase letters and short vowels."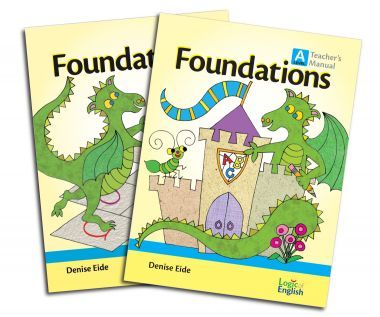 My Foundations A Manuscript kit included:
Level A Teacher's Manual

Level A Student Workbook

Doodling Dragons: An ABC Book of Sounds

Student Whiteboard

Basic Phonogram Flash Cards

Phonogram Game Cards

Rhythm of Handwriting Tactile Cards

Rhythm of Handwriting Quick Reference Chart
The teachers manual will guide you through using the rest of the products and occasionally give you additional activities you can use, with additional materials to support the student workbook lessons when needed.
All of the lessons include lots of fun interactive ways to learn, such as sounding out the individual phonogram sounds and then the children have to put them together and do what the word says (example: J-U-M-P and the children say "jump!!" and then perform the action.
The white board and tactile cards are a great tools for practicing the steps for correctly writing the letters. The quick reference chart was very helpful with this. Foundations breaks down each part of a letter into the "strokes" you would use to form a letter. This really helped my kids form it correctly. Even the 4 year old could perform and say the
strokes, though she couldn't quite make it look like a letter yet. She had a much clearer idea of how it was formed! I also had the kids evaluate their own work like the program suggests and I was surprised how well they could look at their practice letters and see their mistakes and the things they did correctly. It also had the added benefit that all three would try hard to make the letters "just right" so it would be harder to decide which was best.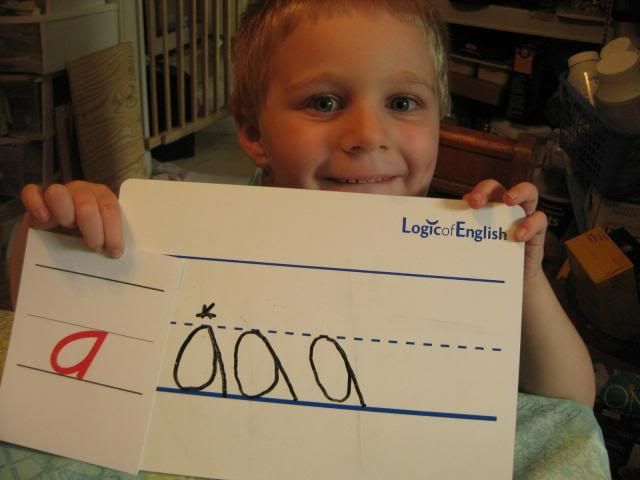 I also had the opportunity to have my children try out the Doodling Dragons and Phonograms Apps as well. The Doodling Dragons app is like a living book version of the hardcover book that comes with Foundations A. It's meant for children ages 2 through 7. Each page covers the phonogram for a particular letter and gives examples for each. For example 'b' has babies, bubbles, a beagle, and buttered bread.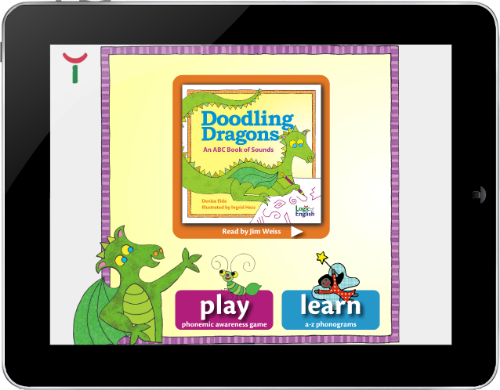 The app puts each page together in such a way that it makes each page into a rhyming poem. In the app you have the options to either have it read, or to "play" which will bring you to each page and the child figures out which picture they are sounding out using the phonograms. This is not like many apps I've seen where the word in sounded out using each individual letter sound, making it difficult to figure out which word to choose. This app is using the phonogram sounds so the word "bread" is "b-r-ea-d" using the "eh" sound for "ea". Each letter or letter combination is taught using each possible sound that it makes which really helped my children understand.
The second app is the

Phonics with Phonograms App

, which is appropriate for ages 4 to adult. This app has "

10 levels to teach the 74 phonograms needed to read and spell 98% of English words". This app is a great tool for supplementing the foundations program with an additional fun way of learning. Some of the additional tools this app provides (according to the Logic of English website):
"Create a custom play list for each student by choosing lowercase, uppercase, single-letter and multi-letter phonograms to review.
Track individual progress and mastery for multiple students.
Use the simple flashcard mode for quick review.
See at a glance which phonograms have been mastered."
The Foundations A physical copy of the Student Workbook, Teachers Manual and Doodling Dragons book is $71. The Additional Foundations Reusable Resources Set including the

Basic Phonogram Flash Cards, Whiteboard,

Phonogram Game Cards,

Rhythm of Handwriting Tactile Cards, Rhythm of Handwriting Quick Reference Chart is $85. There are also e-book options on the website for some of the resources. The Phonics with Phonograms app is available at the iTunes store for $2.99 The Doodling Dragons app is available

through Google play, Amazon and the Apple AppStore for $4.99

.
This curriculum was really just what I was looking for and I think it's going to help turn my beginning reader, and my struggling reader into stronger readers with much improved penmanship!

Logic of English is on Social Media:
Facebook
Pinterest
Youtube
Twitter