We are a family who loves to read together. We always have more books than shelves to keep them on. (I think the books secretly multiply overnight, because even when I get rid of some, they still don't fit!) When I was asked to review Hewitt Homeschooling's Lightning Literature & Composition for Grade 1 Teacher's Guide and Student Workbook, I was very excited because of the selection of great children's literature that we would be asked to read together. Check out these great titles! (These are not included in the curriculum purchase but will be readily available at your local library)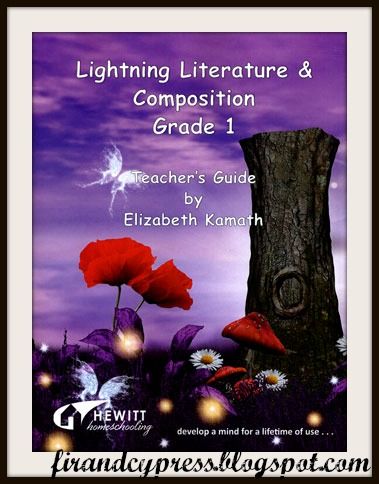 Harold and the Purple Crayon by Crockett Johnson

Madeline by Ludwig Bemelmans
The Snowy Day by Ezra Jack Keats
Caps for Sale by Esphyr Slobodkina
Chickens Aren't the Only Ones by Ruth Hellerv
Umbrella by Taro Yashimav
The Important Book by Margaret Wise Brown
Joseph Had a Little Overcoat by Simms Tabackv
The Napping House by Audrey & Don Wood
The Tale of Peter Rabbit by Beatrix Potter
The Hello, Goodbye Window by Norton Juster
Grandfather's Journey by Allen Say
Doctor De Soto by William Steig
Frog and Toad Are Friends by Arnold Lobel
How the Grinch Stole Christmas! by Dr. Seuss
The Story of Ferdinand by Munro Leaf
Alexander and the Terrible, Horrible, No Good, Very Bad Day by Judith Viorst
Mother Goose Rhymes by Mother Goose
Mabela the Clever by Margaret Read MacDonald
Make Way for Ducklings by Robert McCloskey
Stellaluna by Janell Cannon
Chester's Way by Kevin Henkes
The Story About Ping by Marjorie Flack
Mouse Soup by Arnold Lobel
Bill and Pete to the Rescue by Tomie dePaola
Best Friends for Frances by Russell Hoban
Always Room for One More by Sorche Nic Leodhas
Tikki Tikki Tembo by Arlene Mosel
Millions of Cats by Wanda Gág
Curious George Flies a Kite by Margret Reyv
Babar the King by Jean de Brunhoff
This Is London by M. Sasek
Mike Mulligan and His Steam Shovel by Virginia Lee Burton
How Droofus the Dragon Lost His Head by Bill Peet
The Big Orange Splot by Daniel Manus Pinkwater


Wabi Sabi by Mark Reibstein
You will also be asked to use a copy of Aesop's Fables. We happened to have our own copy and enjoy reading these fables together, however the curriculum states that they provide no questions to ask with the fables and they may be skipped if you would prefer.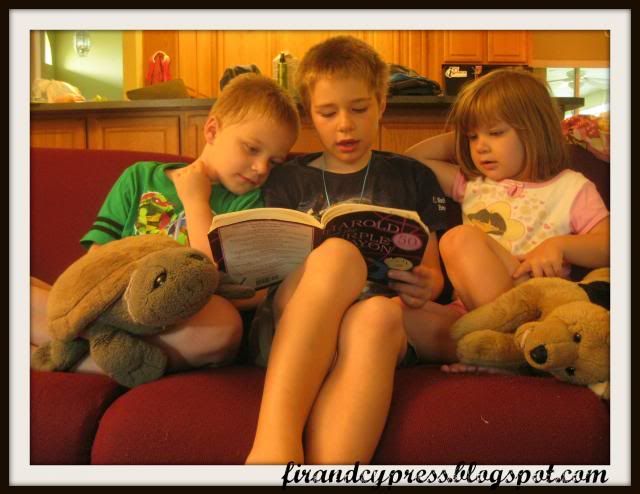 In our family, we have one child just entering third grade and one just entering first grade. Since I knew that a lot of the concepts in this curriculum would be very new to my first grader, but a great review for my third grader I had them work on it together. The third grader read the books aloud to the first grader (and my preschooler, because she didn't want to be left out) and then as the first grader did the worksheets, the third grader would help him with the reading and the answers he was unsure of. It was a great introduction for one and review for the other!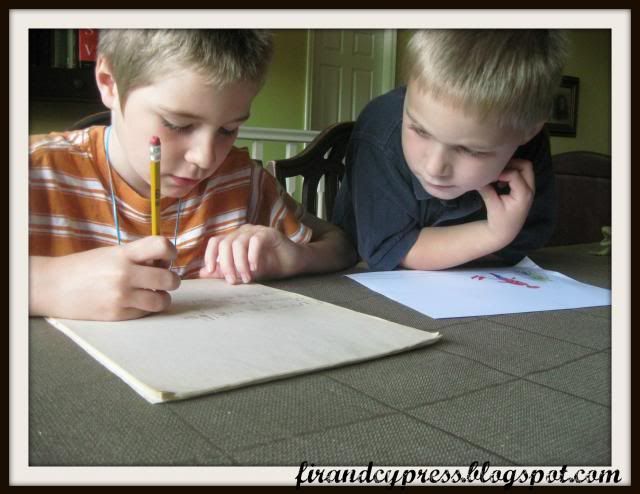 The student workbook is printed in vibrant color on high quality, glossy paper. It's written in a large print font that is easy for children to read. The pages of the workbook are 3-hole punched, perforated and oriented horizontally, so they can be easily removed and used in a three-ring binder. I removed the pages before giving them to my 1st grade son to complete, and then placed them in a file folder, as opposed to having him try to work in such a thick book (especially since some are double-sided).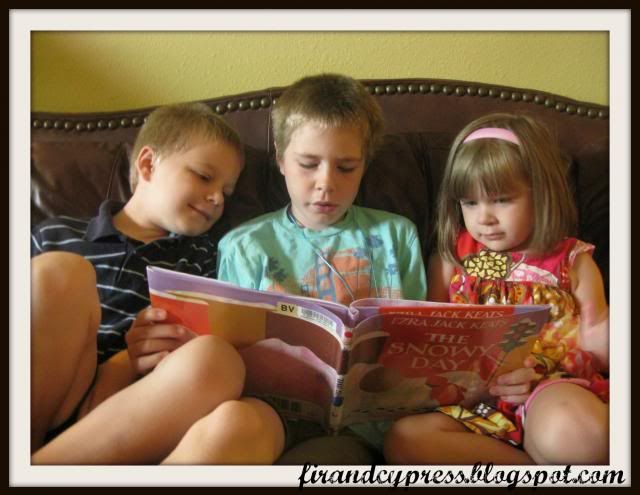 You will also be asked to keep a composition book for writing papers on different topics each week. Since my new first grader isn't ready for independent writing, this was another collaborative step for my two older boys. My first grader, helped brainstorm ideas and my third grader wrote them down. Then they both drew pictures together about what they wrote.
We enjoyed this curriculum, it has a lot to recommend itself to you. There is minimal prep work for the teacher, lots of great literature included, and it filled in some gaps for grammar and mechanics while also guiding my children in writing their own compositions. The 302-page teacher guide
is a softcover book that clearly lays out the lessons for each day. It also

provides some scripted questions for the teacher for increased student comprehension.

The curriculum lasts for 36 weeks, with one book per week (which makes it very easy to borrow the titles from the library and return them in a timely manner).
One of the things I love about homeschooling is the freedom it gives us as parents to allow our children to move at their own pace. Often, I find that homeschooled children do not exactly mirror their public-schooled counterparts at grade level for each subject. Because of this, I think it is sometimes difficult to determine what grade level on a certain product will work for your children. As long as you can be flexible as a Mom, and as a teacher, I find that you can usually make most products work that are close to their grade level. This curriculum wasn't a "perfect fit" for either of my children at this grade level, however it works really well when they made it into a team effort and worked on it together. Plus, the old adage about "the best way to learn is to teach" was true as well, as I found my older son was very invested in getting it right as he taught his younger brother.
What you Need to Know
Connect With Hewitt Homeschooling on Social Media:
The Schoolhouse Review Crew reviewed lots of other products from Hewitt Homeschooling as well for lots of different ages. So go check out some other reviews as well!



​​