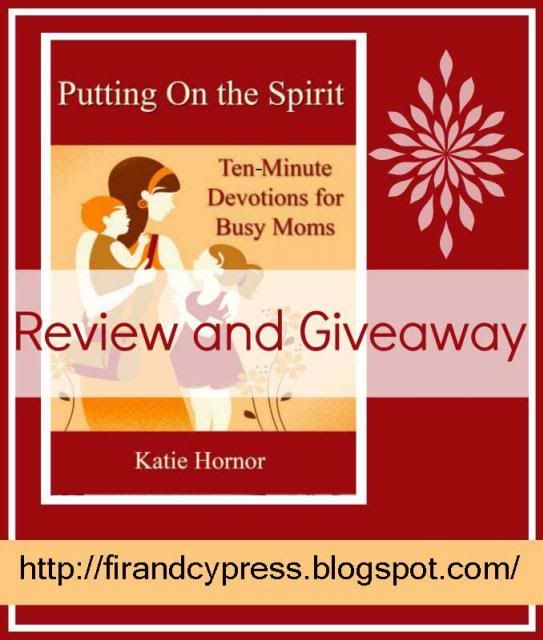 "A one month devotional Bible study on the fruit of the Spirit offering busy moms hope and a practical way to feed their souls in those short snatches of quiet time during their busy days."
Does that sound appealing to you? Me too! So when I was offered the chance to receive a free copy of Katie Hornor's new ebook
"Putting on the Spirit: Ten Minute Devotions for Busy Moms

"

I was happy to say YES!




From her website:





"Katie and her husband Tap have been missionaries in Mexico since 2007. They homeschool their four children and minister through church planting, Bible training, bookstore ministry, and homeschool curriculum development.
Katie is a teacher at heart, and by trade, and loves to encourage women in their God-given roles through speaking, writing and blogging. She is the author of this and two other ebooks (at the date of this printing) as well as the Lemonhass homeschool curriculum for Spanish Speaking families."
So in other words, Katie knows what its like to be a busy mom! This devotional book goes through each of the 9 Fruits of the Spirit and spends 2 to 3 days exploring them further and helping you apply them to your real life. Love ,Joy, Peace ,Long-Suffering (Patience), Meekness (Kindness), Goodness, Faithfulness, Gentleness, and Temperance (Self-Control). Each devotional can easily be completed in just 10 minutes, or if you happen to be a mama with a little more time than that you could certainly explore each verse and explanation further.
Katie has some practical suggestions about how to fit in time with God in our busy schedules. She explains here:
"You and I are very busy moms, but we do have time for the Word
in small increments—waiting for the kids in the carpool line,
nursing the baby, waiting at sports or instrument practice, during
nap time, during lunch break at work, just before dinner, or just
after putting the kids down for the night. It is possible for each of
us to find ten minutes a day to spend with the Lord, clothing
ourselves in his Spirit."
This devotional will encourage you to seek to use God's methods to deal with the heart issues of everyday life. It has bless me to focus on the Fruit's of the Spirit more fully and to share more of how each "fruit" can be applied in daily life and be taught to my children as well.
There also is a free workbook that goes along with the book you can download it here. The Kindle version of the book is .99 cents through tomorrow (12/13) and then $4.99 after that.
And if you would like to win your own copy, Katie has graciously allowed me to give away THREE PDF copies here on my blog! So please enter through the rafflecopter widget below!
a Rafflecopter giveaway