What do you know about Asia and the people groups that live there? Are you looking for ways to talk to your children about persecuted Christians in other countries or how to pray for Asia and it's people groups?
Bonnie Rose Hudson has written a book about the people of Asia and the persecution Christians suffer in the 10/40 window in a way to engage even small children in understanding the troubles some Christians face and how grateful we should feel for our religious freedom!
I have been reading this book with our 8, 6, and 3 year old and even the 6 year old has gained a greater understanding of what even young children face as they choose to stand up for their faith in God. When we started to read about the people of Laos, my 6 year old couldn't believe that children could be turned from their homes or persecuted for their faith. "Mom! It should be illegal for people to treat little kids like that!", he said. Ms. Hudson does a wonderful job of engaging your attention by giving each country a mix of educating information about the region and then sharing stories of children who live there and some of the trials they face each day.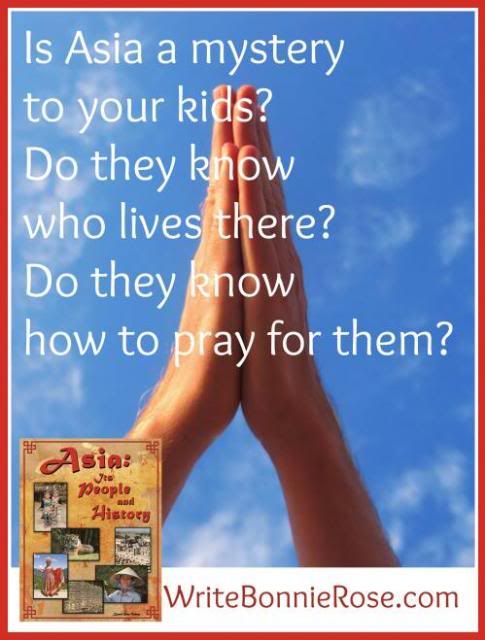 My children loved learning about Sanjoy, a twelve year old boy from Bangladesh who, despite suffering a beating that ended in a broken leg, was able to lay his hurt aside and help lead his persecutor to Christ. We ended up having a really powerful discussion about the light that Jesus places in each of us and how it can shine in even the darkest spots, because the Holy Spirit in inside of us.
There is also a wonderful activities section in the back of the book that has crossword puzzles, memory games, word searches, and map activities. There are also several free suggestions of further information and research on this region for your future homeschool history lessons :)
When asked what her goal is in writing Bonnie Rose Hudson answered; "My prayer is that everything I write would honor God and help whoever reads it know that God loves them and that they are special to Him. There are days we don't feel special. There are days we feel like no one knows who we are or cares how we are feeling. I want my readers to know that God does know, that He does care, and that they are more precious to Him than they could ever imagine."
I have permission to give 2 PDF copies of "Asia: It's People and History" by Bonnie Rose Hudson! Please enter through the Rafflecopter form below for a chance to win a free copy yourself!
There are several ways to purchase your own copy of this book as well! The Old Schoolhouse Store has it and the PDF copy through them is on 25% off sale until 3/15/14 (promo code: 02asia14! and YES the exclamation point is part of the code) Amazon has it as well to purchase for your Kindle. And it is also available at Smashwords. There will be a print version available as well and I will update this post when the information on that is available.
a Rafflecopter giveaway
Some of the links on my blog are "affiliate" links, which I am required to notify you of to comply with FTC regulation. If you click on one of these links and then purchase an item through the link I may receive a small compensation. Thank you!