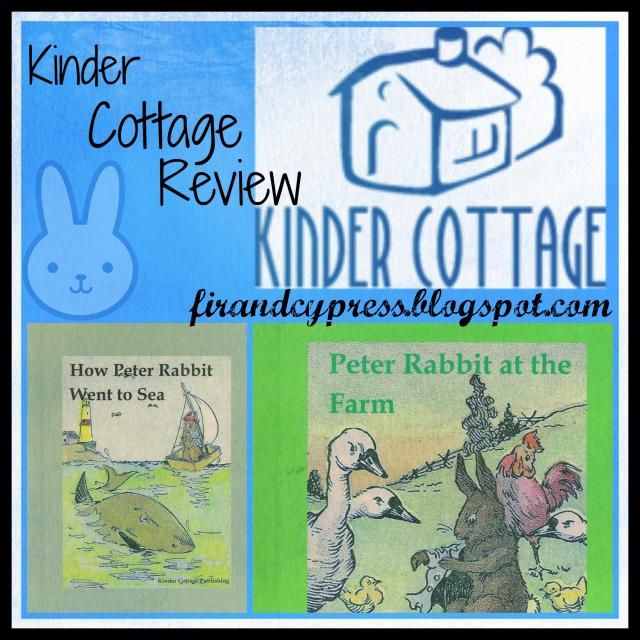 This series, ideal for ages 3-9, are a well crafted hardback adaption of an original book published by the Henry Altemus Company in the early 1900's. Color illustrations are beautifully preserved and the text is updated to reflect our modern language. Samples and pictures of each book can be found on the Kinder Cottage website.
As is true in many fairy tales, the Peter Rabbit stories show the consequences of naughty behavior. Peter is often forbidden by his mother from doing a certain thing and then proceeds to do it anyway, often with unwanted consequences that a child can clearly understand.
In Peter Rabbit at the Farm, Peter slips out the door while his mother isn't looking. Moving quickly without watching where he's going, he runs smack into Pollie Possum and spills all of her persimmons. After continuing on his way, he meets a sobbing Goosie Poosie, and helps her fix the pond that's been dried up, but not before falling in and soaking himself in the process! After many more adventures, he is finally ready to go home, but when he tries to think of the quickest way to get there, he ends up getting lost in a cornfield instead!


In, How Peter Rabbit Went to Sea, Peter is told by mama rabbit what he must not do as she goes visiting to her friend's house. Although he's already been in trouble for failing to bring back cabbage for breakfast, Peter decides he wants to play pirate and heads to the forbidden brook, without heeding the warnings of his sisters. The small brook sweeps him out to sea where he has adventures with a Old Man Shark, a Johnny Crab, Gruff Old Sword-Fish and an Old Granddaddy Whale. He is then carried off by a Sammy Sea Gull but manages to make it back and is thankful to be home and headed for his own bed. He declares he never wants to play pirate again!
As a mom
, I appreciate stories like this that teach my children how disobedience can have
consequences that are not going to be enjoyable. I believe there is value in a story that encourages children to think for themselves and come to their own conclusions about how to distinguish right and wrong behavior.
.
We thoroughly enjoyed these little books. They were perfect for my emerging reader to read and my two younger children (other than the baby) to listen to. We read them over and over again (and will continue to do so). The children have colored pictures of Peter Rabbit and have talked about his adventures, and his lack of obedience. They are not just fun stories, but they are helpful in building moral character through example of what to do, and what NOT to do! These books are timeless classics and have a high quality feel that would make an excellent addition collection of children's books.
The following 10 books are in the series:
You can purchase titles separately for $4.00 each, or you can save $10.00 and purchase the entire set for $30.00. Kinder Cottage is also generously offering my readers an additional 20% off the product price on the website by entering the coupon code: TOS