Have you used study guides to help your children understand literature? Are you interested in helping your children view literature with a Christian worldview? I want to tell you about the study guide from Progeny Press that we recently reviewed.
Progeny Press wants to help our children understand literature through the lens of Scripture and look at real life situations and to evaluate them rightly.
The study guide we used was the Frog and Toad Together E-guide, which is a PDF e-guide. We printed ours out and used the hard copy. The study guides for older children (grades 4-12 ) are interactive PDF's and you can also have your child use the guide right on the computer and type out their answers. The Frog and Toad Together E-guide retails for $11.99. Progeny Press has 4 levels of E-guides available including Lower Elementary, Upper Elementary, Middle School and High School. Most of the Middle and High School study guides take about 8-10 weeks to complete, however some of the elementary school guide take less time.




Frog and Toad together is a collection of stories about the famous friends Frog and Toad. Frog and Toad get themselves into some silly scenarios and some troublesome problems, but through it all they learn lessons about what it means to be a friend. My kids really enjoy the Frog and Toad books. This study guide is meant for children in grades K-3, I used it with my Kindergartener and my Second grader. Neither of my children are strong writers yet, so we read the questions in the study guide out loud and Mommy wrote the answers in that the children gave.
This is one series that has the children laughing out loud as we read together. I have a beginning reader so we switched off between Mommy reading and him reading some of the stories.
My oldest son really enjoyed making the "to do" list from the first story "The List"
that was included in the PDF. When Toad makes his list he feels strongly that he can ONLY do the things on the list. That makes for a silly situation when he looses the list and can't remember what it said!
Rest assured, we did not actually "eat dogs". He actually meant he was going to feed the dogs. =)



As we made our list the Study Guide talked about the Scripture from Jeremiah 10:23




"I know, O Lord that a man's life is not his own; it is not for man to direct his steps."




The Study guide also had us discuss how can making a list can be good and bad and what kind of list might Jesus make if he was ordering his day.





We really enjoyed digging a little deeper into this favorite book with the help of Progeny Press. I could definitely see using some of there guide in the future for further literature exploration, especially as we enter into the season of learning with more challenging books and books written with a different worldview than our own.
One of the parts of the guide that I love the best is the Scripture references. It's clear that a lot of thought that was put into the questions. Our family was able to use the guide to have conversations about how the answers can be applied to our lives. I love how they use the pieces of story to connect to the Bible. The guide ends with suggestions of similar books and videos as well. This is a great way to explore further and you have an easy resource to guide you to more information.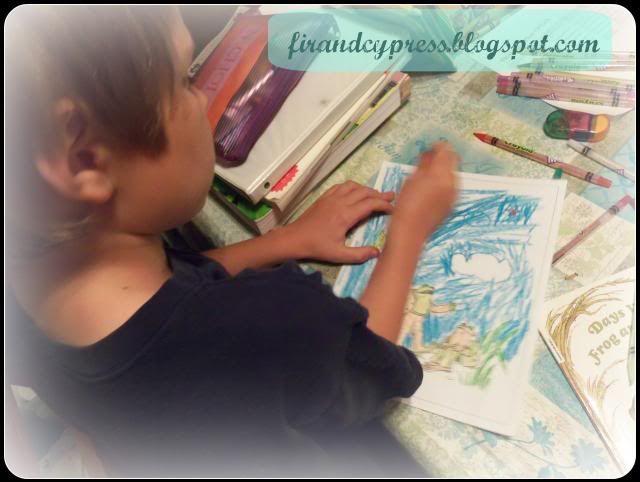 This coloring page is not in the study guide but easily found for free online to add to the learning for small children.
If you would like to connect with Progeny Press on Social Media: