On to the cookies!!
It will take some unconventional mixing to incorporate these additional ingredients (more like "chopping" them in with a wood spoon than mixing) but once they are all incorporated you are ready to bake! I like to use a cookie scoop to place on your tray lined with parchment paper. Bake at 375 for 10-15 min.
Sourdough Cookies will not be super crispy, but that doesn't stop them from being super delicious! Something about the combination of Lemon and Caraway in this recipe is so super yummy! The first time we made them we brought them to the beach with us (which is a great place to eat them since the anti-oxidants can help your body fight the free-radicals in the UV rays of the sun!) They were gone before we reached home!
If you don't have any sourdough starter on hand, or if crispy cookies are essential to your enjoyment of them, don't worry! You can still make these delicious cookies, have the health benefits of a soaked grain! If you would like to make your own soaked grain, I have used this method from Kitchen Stewardship before with good results. There's an Amazon link below that you can use to purchase it if your do not want to make your own.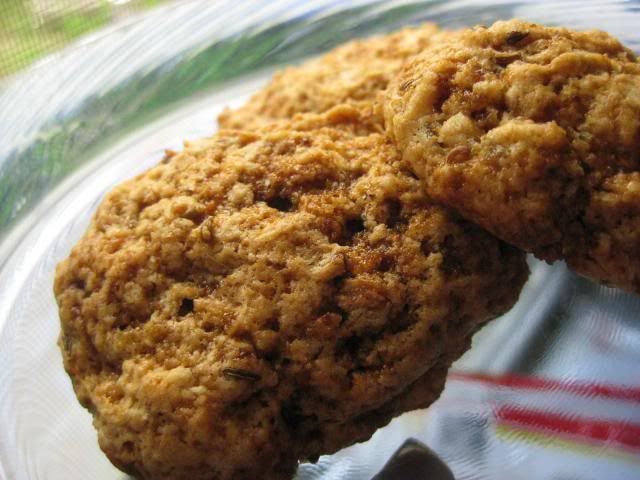 these are still the sourdough variety, the others disappeared before I got a picture!
1/2 TBS lemon zest (optional)
In a mixing bowl, combine the butter (or coconut oil) with the coconut sugar and mix well. Add the egg, lemon extract and caraway seeds. Traditional baking methods would then tell you to combine in a separate bowl the flour, baking soda and salt. If you would like to do it that way, that's fine. I do not want to have another bowl to wash and so I add the baking soda and sea salt to the mixed ingredients and mix them well, then I add the flour. (and it's always turn out fine this way). Scoop onto parchment-lined baking sheet and bake at 375 for 10-15 min.
This second method will create less rise to your cookies and a crispier texture. I don't have a picture of the second method, the cookies disappeared before I could take one. ;)